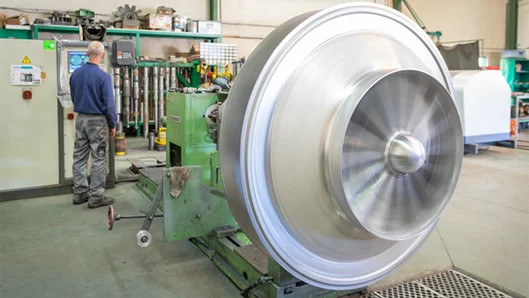 It is always a tremendous pleasure to describe the various operations we carry out for companies that call on our expertise in the design and maintenance of industrial fans and compressors. On this occasion, an agri-foodstuffs group chose AVIME to retro-design a steam compressor.
The retro-design of a compressor rotor was completed in record time
Over the years, the customer's production facility, located in Belfort, had been suffering from recurring reliability problems with the rotor, as well as excessive maintenance costs.
AVIME proposed and manufactured a "Bernard l'Hermite" rotor for the customer. Without replacing the stator, we installed our in-house designed rotor. One of the particularities of this rotor was its socketing designed with a conical assembly and with hydraulic assisted assembling and disassembling. This prevents the heating or damaging the turbine.
This operation was completed in record time, thereby enabling a very short operational stoppage. The operating conditions for the compressor were significantly improved with an excellent vibration signature. We thus recorded a vibration velocity of less than 1 mm/s at 3,000 rpm.
This was another successful reference for the manufacturing and mechanical workshop team engineering design office!
Do you need a compressor rotor design? Please contact our teams and we will happily work with you to design exactly what you need